Relationship Manager/Labor Relations Specialist
Relationship Manager/Labor Engagement
Are you a people person who enjoys getting to know others?  Do you desire to help the community?  Want to put those two passions together?  Then we are looking for you!
United Way of Rock River Valley is seeking a Relationship Manager/Labor Engagement.  This position will work one-on-one with local businesses to raise funds for the community and provide specific support to companies with labor.  This person will also support labor in their outreach through participating with committees for events such as the Labor Day parade, picnic and more.  Our ideal candidate is open, flexible and enjoys learning.  We are an inclusive team and looking for the next best person to join us!
Here are the main objectives for this job:
Work actively with the campaign team to provide pertinent information on union accounts including climate and contacts, identify areas of possible growth, and obtain active support from local union leaders for the annual workplace campaign.
Increase labor participation in United Way campaigns.
Improve labor participation in volunteer activities.
Maintain ongoing communication with all local unions, educating them on United Way, its initiatives, and programs.
Work on and assist with special union projects such as the NALC Food Drive, Workers Memorial Day, Labor Day Parade and Picnic and RUL Golf outing.
Network and build deeper relationships among Health, Human Services, Community and other organizations with organized labor and United Way.
United Way offers a competitive wage, benefits and paid time off.  Please apply online.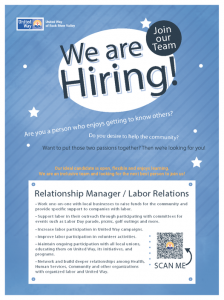 Job Features
| | |
| --- | --- |
| Job Category | First Shift, Full Time |